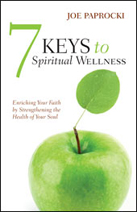 I want to let you know about a free webinar from Joe Paprocki coming up on Tuesday, April 24.
It's for his new book  7 Keys to Spiritual Wellness.
This book is like preventative medicine for the soul.
We all know the things we're supposed to do to stay physically healthy like eating right, exercising regularly (I'm talking to myself), and taking vitamins.
But how much do we know about staying spiritually healthy?

The keys to spiritual wellness
Your soul can get spiritually sick and die as well.
Joe's new book focuses on the root causes of spiritual sickness. Each chapter identifies a specific threat to the health of our souls and offers strategies for beating that virus.
Paprocki's keys to spiritual wellness are:
Seeing Yourself as You Really Are
Actively Seeking the Good of Others
Thinking Before Acting
Holding on Loosely
Recognizing and Setting Limits
Channeling, Not Repressing, Your Desires
Unleashing Your Imagination
Catechist spirituality is essential
Spirituality is one of the significant pieces to successful catechesis. It's so important and so often neglected.
Let's face it–we're all really busy and a prayer life takes time and effort. Sometimes, most times, working on your spiritual life is the corner that most catechists cut in order to get the work done.
I'm guilty of this too and it's definitely a mistake. People are converted and truly take hold of the Faith largely because of the holiness of the minister. The Saints say this all the time, and their lives are a testimony to this truth.
This is because God is the one who makes a ministry fruitful. The Holy Spirit enlightens minds to the truths of the Faith. The catechist or minister is merely the instrument. Yes, they have to be as good at the craft as they possibly can, but in the end, it's God who multiplies the harvest. It's our work to be the instrument and cooperate with his work.
Takeaway
So, if you want to be a catechist,  you need to be spiritually strong and healthy. You need to have a vibrant spiritual life.
It's one of the most important elements of your preparation for class. Just as important as your lesson plan. Maybe even more because at the end of your life, it won't matter so much that you taught some kids, but that you did it for love of Jesus and grew in faith while doing it.
Go sign up!
Check out Joe's post on the webinar. There's a sign-up link there, as well as a promo code for a discount on the book and bulk pricing.
See you there!