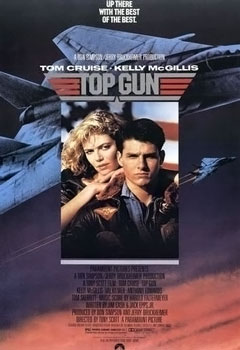 Sometimes this gets me in trouble with the hardcore catechetics types…
In evangelization, you have to do more than just present the facts of the Faith to get a good start with people.
Most of the time, if you don't sell them a bit, it won't grab their hearts.
Let's take an example from my own life.
I was recruited into being a Navy pilot by the 1986 movie "Top Gun."
"Top Gun" is the Navy's elite fighter pilot tactics school. In the movie, Tom Cruise played a pilot who got a chance to go there and fly with the "best of the best."
In a sense, Top Gun evangelized me. I'm not ashamed to admit it. Well, maybe I'm a little ashamed. But I couldn't help it!
It made being a Navy pilot look so cool and glamorous–it totally drew me in. And, I wasn't the only one. Recruitment skyrocketed. In fact, it sold the Navy lifestyle so well, recruiting officers set up inside the movie theaters to cash in.
Top Gun, glamour, and water washes
Top Gun was glamorous, but as I found out later, the life of a Navy pilot wasn't all volleyball, hot chicks, and sunglasses (although, there were a lot of sunglasses).
We had a saying in the fleet, "They didn't do water washes in Top Gun."
A water wash is how you clean a jet engine. It consists of spinning the engine turbines (without igniting them) while shooting water through the engine with a special hose.
It's kind of like being in your car while going through a carwash and turning over the ignition for 30 minutes without ever starting the car.
Imagine being on the back of a ship in the Persian Gulf at 3:00 in the morning. It's 90 degrees, and you've been flying for 8 hours. You're exhausted, tired, and sweaty.
Can you go to sleep? No, you have to sit in the aircraft and do the water wash.
Top Gun and evangelization
Glamorous? Not always. It wasn't all roses, but I didn't really care.
It was too late anyway. I was in it and living the life!
Yes, there were some rough spots, but there were a lot of benefits as well. Did I mention the sunglasses?
And of course, there was that whole flying multi-million dollar aircraft very fast.
The point is, it wasn't the mundane aspects of Navy life that drew me in, and that certainly didn't keep me there. It was the adventure, the challenge, and being a part of something larger than life.
The Top Gun Effect
Catholicism has a lot to offer.
It's the most amazingly complete and comprehensive system of belief in history. It has everything you need to live fulfilled and happy. It's like a roadmap for life.
Not only that, union with God brings a love, peace, and fullness you can't imagine…unless you experience it yourself.
Effective evangelization requires you to project a little bit of the "Top Gun Effect." You have to show people the cool and glamour of living Catholic. You have to give them the adventure.
I'm not saying you should lie or sugar coat the truth. People need to know the demands of being Catholic. But they also need to know the great joy!
Evangelization takeaway
If you're going to evangelize, you have to be in touch with what you love about life as a Catholic.
What drives you? What keeps you going in it? What motivates you to sacrifice for it?
No one will be drawn to the Church if you're Catholic just because you've got nothing else. They most certainly won't be drawn to it if you don't believe Church teaching and want to change the core beliefs of the Faith.
Why would someone want to join when you say it sucks and you want to completely change it?
And catechists/religion teachers–why should your students care to learn about something you don't enthusiastically live? If Catholicism is just dry and boring doctrines from a textbook, no one will be motivated to care about it and change their lives for it.
What drives you to be Catholic? 
Are you in touch with what you love about the Catholic Faith? 
From your own experience, what could you tell someone to convince them to be Catholic?