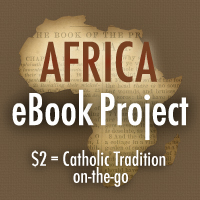 One of the things that makes the Catholic Church great is our rich theological tradition.
I see it all the time in RCIA. Candidates are always overwhelmed by the depth of Catholicism.
I'm continually told how the theology of their former churches only went so far.
They thought they had it all figured out, but then they became Catholic!
Now they find no end to how far and how deep they can go.

Catholics stand on the shoulders of giants
Part of the reason is because we're able to build on two-thousand years of brilliant priests, Popes, Saints, theologians, mystics, monks, teachers, and scholars all thinking, clarifying, and defining the same essential core of doctrine we profess today.
That's a lot of background material!
I don't personally have to be a brilliant theologian because I can stand on the shoulders of hundreds of years of theological speculation and reflection from men and women far more brilliant…and holy than me.
It's all there for us to study, learn, and pass on. We have it all in books.
But what if that wasn't possible?
But imagine if priests or teachers didn't have access to books? This depth of knowledge would be lost to them. Well, that's the situation in African countries like Cameroon. There, books are rare–especially the good ones.
The seminaries are filled with young men who want to learn and pass on this rich Catholic tradition, but they don't have access to solid Catholic books. They do have computers, but reading blog posts and information on websites is not the same.
My friend and fellow blogger Brandon Vogt hopes to change that with the Africa eBook Project.
Enter the Africa eBook Project
The plan is to send CDs loaded with Catholic eBooks to all the seminarians in Cameroon. Each CD includes:
The Holy Bible
The Catholic Encyclopedia
The complete writings of the Church fathers
St. Thomas' entire Summa
Classic books by authors like G.K. Chesterton, St. Therese of Lisieux, and Cardinal John Henry Newman
Modern titles on preaching, the priesthood, and new media by Cardinal Timothy Dolan, Archbishop Jose Gomez, and several by Pope Benedict XVI
Each CD will cost $2 to produce and ship to Africa. To raise the money, we're running a month-long campaign at Indiegogo.com (click here to donate to the Africa eBook Project). The purpose is not to have one single charity fund this project, but Instead, to harness the power of New Media and crowdsource this work of mercy.
For just $2, anyone can donate one CD and join the movement. 
Originally, the goal was to raise $4,000 to supply all the seminarians in Cameroon with these CDs. However, after one week the Africa eBook Project as raised $14,000 and it's still going! What will they do with the extra money? Send more CDs to more seminarians–maybe all the future priests in Africa!
There's gifts for you as well
Additionally, several Catholic companies have put together giveaway perks for donors:
$2 donation – Digital photo of a Cameroon seminarian receiving his CD
$15 donation – CD w/ talk by Dr. Scott Hahn
$25 donation – "Best of Fr. Barron" CD including 10 talks
$50 donation – Church and New Media book (Brandon Vogt)
$75 donation – Catholicism book (Fr. Robert Barron)
$200 donation – Complete set of Catholicism DVD series
Join the movement!
This Africa eBook project is an experiment in new media solidarity. Its goal is to unite the energy of the online Catholic world and channel it into a global work of mercy. With new media we can do that. We can share new books and help form priests halfway across the world.
So here's your invitation to the movement. Click here to donate a couple bucks and invite all your friends to do the same! For just $2, you're a part of this!
And please, share this post on your Facebook, Twitter, Google Plus, and any other social networks (there's handy links to the left).
Let's put the real power of the viral internet to work.