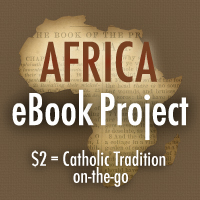 The Africa eBook project ended last week and it was a overwhelming success!
The goal was to raise $4,000 and provide 2,000 CD's loaded with Catholic books for seminarians in Cameroon.
That was exceeded in the first week.
In the end, the project totaled $18,050! I think everyone was surprised at that.
Thanks to everyone who contributed. It was really an amazing response.
What's next? Well, there was some talk that Cardinal Arinze wanted the same thing to happen in Nigeria! And, if the Cardinal wants it…
Who knows? We may have to go another round.