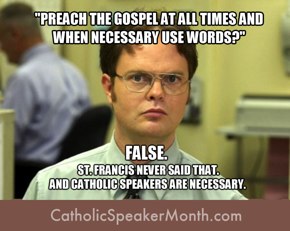 "But how are men to call upon him in whom they have not believed? And how are they to believe in him of whom they have never heard? And how are they to hear without a preacher?" Romans 10:14
Great preachers, teachers, and speakers are essential for spreading and deepening the Catholic Faith.
That's just a fact.
You can find just about any answer to any question about Catholicism in books. It's probably all there somewhere.
But without an expert to guide you, the search is long and not always fruitful. You don't always know the right places to look. Sometimes you can't even understand what you find because there's background information to unpack.
On top of that, what about the people that aren't interested in Catholicism? They won't even pick up that book in the first place–even if it could be the most important book of their lives.
However, hearing someone speak passionately about the Faith, or about how they converted to the Catholic Church, could make all the difference.
It could sway long-held, stubborn opinions and crack the door for the truth to get in…and change their life.
I found that in my own faith journey. I was looking for something more in life but I couldn't figure out what it was. It certainly wasn't Catholicism.
But when I heard Scott Hahn speak about the Bible and the Church, everything fell into place. Catholicism was what I longed for even though I had no clue before I heard Hahn talk about it.
Support a Catholic Speaker Month 2012
Brandon Vogt has another great project in the works–this time to promote Catholic Speakers. It's called Support a Catholic Speaker Month 2012. Last week, Brandon asked readers to give him the names of their favorite Catholic speakers. He came up with a list of 250.
The goal is to whittle that down to 100 by this Thursday, August 23rd. And you get to decide!
Well, you and everyone else collectively. Go to the voting page by August 23rd and choose your top 15 favorite Catholic speakers. The voter count is up to over 9,000! That should generate a pretty good list.
The goal is not to pick who's the best. It's not a popularity contest, and it's not about their value as a speaker.
It's designed to do three things:
Promote great Catholic speakers, who are so important to the life of the Church.
Introduce many new and unfamiliar names who deserved a bigger platform.
Give bloggers a chance to connect with their favorite speakers while building traffic to their own websites.
When the voting is done on Thursday morning, 100 bloggers will connect with 100 speakers to promote everyone on the list.
What can you do?
Want to turn the tide of faithlessness in America?
Share Support Catholic Speaker Month 2012 on your social media channels. Vote before August 23rd and encourage your friends to vote as well.
You'll be helping the New Evangelization by promoting great Catholic speakers who will spread the good new of Jesus Christ.
If people don't hear, how can they believe. And, in some cases, if they don't hear, they won't have a chance to believe. Support Catholic speakers today.