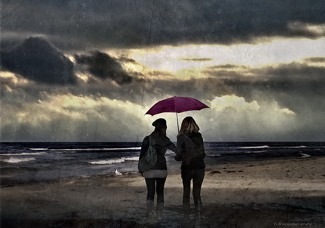 I'm still excited about the concept  I talked about in my last post on the enrichment of faith.
To me, this CNS article on Catholic mom bloggers was a perfect example of how powerful blogs can be in keeping faith real.
Here's three ways the social web contributes to the enrichment of faith and forms an essential element of the new evangelization.

1. Blogs convey a personal faith
One of the main ingredients of keeping faith real is relating the personal aspects of faith.
When readers respond positively to one of [Mary DeTurris] Poust's blogs, maybe one she based on a personal life struggle, she said, "It really affirms what I'm doing — using social media tools to reach people who aren't necessarily in the pews or churches," she said. They'll email or comment and say they are going through the same thing and feeling alone on the journey," said Poust.
It's not enough to simply convey the facts of Catholic truths, you need to tell your audience how that truth affects you, what it's done for you, and how it's transformed you…made you better.
Blogs do this in a special way. They are usually (though not always) deeply personal expressions of the writer's thoughts, feelings, and faith.
2. Blogs can give a sense of community
Blogs can also create a sense of community and Catholic friendship when there's none to be had locally. This is especially true because it's not just a one-way conversation. Readers can dialoge and interact with the author and other readers.
Rebecca Teti, of the Coffee Talk blog on CatholicDigest.com said:
Many Catholics don't have the advantage of like-minded Catholics being nearby in their neighborhood who support and pray for each other.
It's almost like getting together with the neighbors and talking about your problems:
An example of a recent Coffee Talk blog post came from a reader expressing her dismay over her 14-year-old son's reluctance to receive the sacrament of confirmation. Several readers chimed in with suggestions about the importance of keeping the lines of communication open between parents and children, advice on the best catechetical resources, as well as promise of prayers for the woman and her son.
I remember when I was a kid, my grandmother had coffee every afternoon at 3:00 pm and all the neighbors would come by to talk. I would sit in and listen just to feel grownup. That's where I got my first taste of coffee and learned to drink it.
From what I remember, it was mostly gossip at my grandmother's table. But I'm sure they talked about the deep stuff when I wasn't there.
3. Blogs extend the personal outside the church walls
The other thing about blogs is they reach into places many faithful Catholics can't go–the living rooms (and bedrooms) of non-Catholics and non-believers.
Jennifer Fulwiler, of Conversion Diary is a perfect example. When she had questions about religion, she started investigating faith through blogs. That search eventually led her into the Catholic Church because the online Catholics presented their faith so well.
I think this reach, combined with the personal, makes blogging an amazing tool for the conveying the faith in a real and authentic way. Blogging and online publishing definitely only get bigger and more wide-spread and more and more people awaken to the social web.
Although it will never replace one-on-one, face-to-face conversation, blogging and online media is and will continue to be an essential part of the new evangelization.
What are some other ways online media keeps the faith real? Can you think of some examples where this is done really well? Share them in the comments.
Photo Credit: h.koppdelaney via Compfight cc