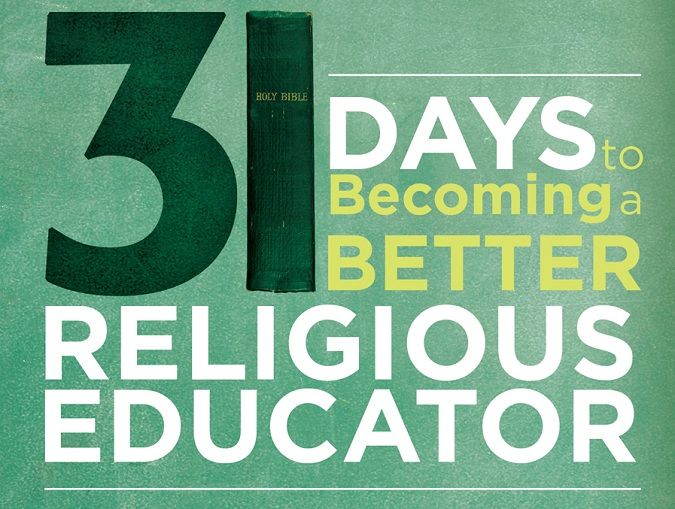 Jared Dees is passionate about the practical.
For years he's provided easy to implement resources, activities, lesson plans and guides for religious educators on his blog, The Religion Teacher.
Now he's distilled those years of practical training into a new book, 31 Days to Becoming a Better Religious Educator. 
The book contains thirty-one exercises that will help you create a more engaging, spiritual, and educational environment for your students.
Each exercise contains a quote from Scripture, a story from a saint or research in educational psychology, step-by-step instructions for completing an exercise, and a "Going Deeper" section that invites you into a meditation or prayer practice.
Below is my interview with Jared about his new book and about what it takes to become a better religious educator.

Q: What is your training and background in religious education?
After graduating from Miami University (Ohio), I entered into a teacher-training program at the University of Notre Dame called the Alliance for Catholic Education (ACE).
With a double-major in history and religion, ACE was able to find a spot for me teaching middle school social studies and religion in Pensacola, Florida. I earned a master's in education taking classes online and on campus during the summer during the first two years of my teaching career.
After that, I took a job teaching high school theology in Nashville, Tennessee and then began a master's in theology program in the summers back at Notre Dame. I guess my wife and I couldn't get enough of Our Lady's university because now we live in South Bend, Indiana and I work across the street from Notre Dame at a publishing company called Ave Maria Press.
I suppose, though, that my real training has been through the constant experiments and offerings I've shared at my website, The Religion Teacher, which I started a little over four years ago.
Q: The concept of a 31 day intensive course for religious educators is so intriguing. How did you come up with this?
Great question! Like any great teacher or artist, I stole the idea from someone else!
At the time I was writing my book proposal, I was reading two books that used this format: Problogger.net's 31 Days to Build a Better Blog and Dan Miller's 48 Days to the Work You Love. The 31-day format made it very easy for me to plug in the many ideas I had been writing about at The Religion Teacher.
I try to make sure everything I create is incredibly practical. A motto I use before publishing anything is, "If it isn't practical, pitch it." The 31-day concept helped solidify that desire for me.
From there, I split the thirty-one days into four sections based on what I see as the four roles of a religious educator: disciple, teacher, servant, and leader. These roles are based on our model, Christ the Teacher, who was called both "master" and "teacher" by his disciples (John 13:13).
If you look closely at what he teaches about living out these two roles, however, it is clear that the way to become a better teacher is to become a better disciple and the way to become a better leader (master) is to become a better servant.
Q: You continually bring things back to the spiritual in the "Going Deeper" section of every chapter. Why is spirituality and developing a prayer life emphasized so strongly?
When you are in any leadership role, it is easy to overlook the importance of your own personal and spiritual development.
These short, easy-to-implement suggestions in the "Going Deeper" sections are meant to help religious educators become refreshed in their faith through spiritual encounters with God.
Remember we are the branches, not the vine. We need that connection to Christ if we really want to do great work. The "Going Deeper" sections provide simple ways to do that each day.
Q: What do you hope catechists and religious educators get out of this book?
I hope they will get something new out of this book every time they do the exercises.
I know I've already seen big changes in the way I teach each time I go through them myself. Many of the exercises are reminders of things we should be doing, but overlook because of the pressing nature of other projects.
For example, contacting parents to praise their children goes a very long way in developing a bond of trust between you as the religious educator and both the parents and the students. We all know we should do this, but having a reminder that makes us do it helps us develop the momentum we need to do it out of habit. I had a much better relationship with the parents of my CCD students this year because of this small exercise.
But at the very least, I hope people will experience a shift in mindset.
We should all put a greater focus on our roles as disciples and servants if we really want to be better teachers and leaders. This means prayer time is not wasted. It means we are always in a position of the learner.
As Blessed John Paul II told us, we must always remind ourselves of the words of Christ, "My teaching is not my own" (John 7:16). And as servants, we expect more from ourselves than we do from our students. We're in class to serve them, not the other way around.
P.S.
I really enjoyed this book, especially the spirituality aspects. Catechesis should lead you to learn and grow in faith as much or more than your students. But you have to continually work to develop your spiritual life.
You can't give what you don't have. If you're not growing in faith, you can't expect that your students will.
So, pick up a copy of 31 Days to Becoming a Better Religious Educator for yourself this summer to prepare for the fall.
Or, if you're a DRE or religion department chair, consider buying copies for all your volunteers or faculty to lead them through the 31 exercises. Jared has supplemental resources for the book including a leader's guide you can download here.
You can find more of Jared at The Religion Teacher or his personal blog www.jareddees.com.