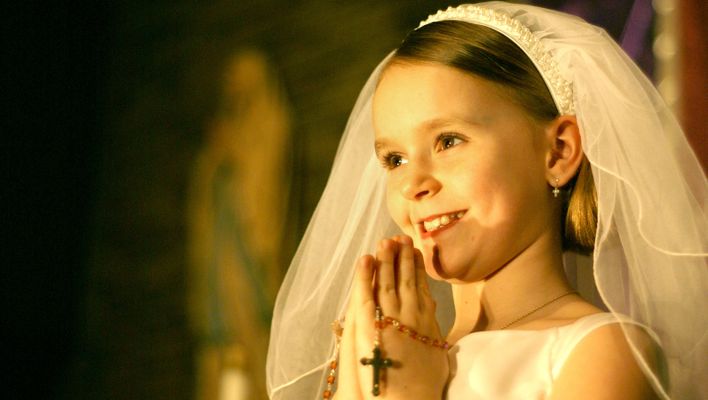 I'm about to embark on a daring endeavor.
I'm starting an education program for parents of First Communion students. The goal is conversion.
In one of my last posts, I wrote about meeting a woman I met at the St. John Bosco Conference that does something very similar. She has seven parent classes every month during the sacramental preparation year.
When she told me about her program, I was in awe…and a bit jealous. I wanted one!

The program I used to have
I had a program like this when I started at my current job, though not as extensive. I stopped doing it when we changed pastors.
The school principal didn't like the program because it interfered with the school's sports schedule (yeah, you read that right). She thought the parents had so many other things going on, the First Communion meetings were a burden. Unfortunately, the pastor conceded.
However, I have a new pastor now! He came in after the Bosco Conference. He's a Salesian, an amazing priest and so catechetical. One of the first things he wanted to do was re-institute the First Communion parent program. I call that providential.
The Challenge
So, the challenge now is how to make a First Communion parent program that's informative, appealing, and evangelical.
I probably don't have to tell you that I'm expecting significant resistance. The pastor is making this program mandatory for both parish AND school families. I'm almost certain the majority of the participants will not be thrilled to be there…at least not at first.
But my goal is to make it easy for them to return…and then, over time, to convert them.
The initial plan
Here's the 7 essential steps in my plan for an evangelizing First Communion parent program:
1. Make them feel welcome
First, I need to gather a team that can engage the parents and make them feel welcome. Food is also an integral part of this and chocolate is an essential ingredient. Hey, it lifts the mood. My professor at Franciscan used to say, "Food is God's love made edible." Don't neglect the snacks!
The team will also serve as small group facilitators (see #4).
2. Be relevant
We can't just lecture on the doctrinal points of Reconciliation and the Eucharist. 80% will be turned off by that.
We have to give them information they can use. What aspects of these sacraments are relevant to their lives? Give them benefits, not features. What are the benefits of Reconciliation? How does your life improve from devotion to the Eucharist?
Do we leave out the features/doctrinal points? Of course not! That's what backs up the truth of the benefits.
3. Use the Information Gap Theory
When someone recognizes a gap in their knowledge, they naturally want to know the answer.
It's what drives the popularity of mystery novels and keeps us coming back for more after the cliffhanger. We need to know what happens in the end…even if the story is bad! This is the Information Gap Theory.
I want to use this theory to keep these parents engaged and interested in our presentations.
4. Start with the Story of Salvation
The first class must be an explanation of how these sacraments fit in the overall big picture of our salvation.
Why are they important in light of God's Triune nature, his immense love for us, original sin, and the redemption wrought by our savior. You have to situate everything you teach within this context or it means nothing.
5. Have small group discussion
Small groups are an integral part of a program like this.
People need to ask questions and talk things out. It's the way we're made.
6. Cast a vision
It's imperative for evangelizing catechesis to cast vision.
We should present an alternate reality, something that could be possible if they bought into our message.
7. Make a call to action
Every lesson must include one concrete "next action step" that can lead to greater engagement with our ideas.
This should be small…something they can easily do. But doing it will facilitate (or at least be a step toward) deeper conversion.
What would you add?
Those are my initial thoughts. Obviously, there's a lot more work to be done. I still have to figure out exactly what to say. But it's a start.
Have you had experience with a program like this? What have you done? What would you do if you could? If you have any ideas, I'd love to know. Please leave a comment or email me.
And, if you liked this post, please give it some share love on your social media profiles.
Photo Credit: Jenniferschwalm via Compfight cc