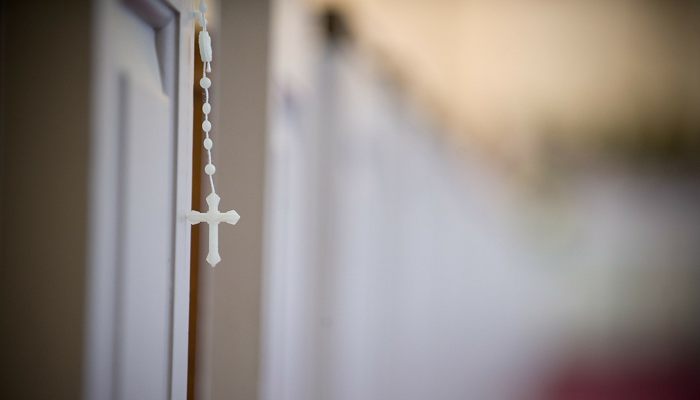 When you were a kid, did you ever have a friend in school you were embarrassed to be with around other people?
Sure, you liked him well enough when you were in class or by yourselves.
But he didn't act like everyone else and said things that other kids thought was strange.
So, because school society was ruled by the small, but vocal, group of "popular kids" who dictated the norm, you didn't hang out with him at lunch recess. It wasn't right, it wasn't even what you really thought, but you were trying to survive.
But things are different now…right? Well…

The Church is that kid
I think this is how most Catholics feel about the Church and their faith.
Sure, they go to church on Sunday and enjoy being Catholic while eating donuts with other Catholics. But outside of that, it's something to hide.
The media, society, heck even the government, has turned Catholicism into that socially outcast kid. It's true of Christianity in general, but not to the same degree.
Our Catholic belief doesn't fall in line with the so-called norms. Catholicism's not cool. So, for the average Catholic, the faith is embarrassing. We keep it to ourselves. I know because I feel it myself…and it's my job.
Who's really the bully?
There's other factors that contribute to this. Catholics get bullied.
The cool kids of culture pick on the Church in the public forum. To be traditionally minded and espouse what the Church teaches regarding homosexuality, sex, marriage, and human life is to be labeled a bigot, intolerant, and outdated.
I honestly don't think I've ever treated anyone harshly because they weren't Catholic, or even Christian, but I've certainly been on the receiving end because I'm Catholic.
But here's the thing…
But here's the thing. Catholic Faith is changing lives every day. Most Catholics don't have conversations with people who are discovering the richness of Catholicism for the first time…but I do.
People have been damaged by societal "values" like promiscuity, abortion, consumerism, and the utilitarian approach toward the human person. Catholic teaching brings clarity, wholeness, integrity, and humanity to life. It brings meaning and purpose to existence.
The Catholic Church has so much to offer people. But how will they know if we're all too embarrassed to talk about it. I'm not saying you have to speak about the Church to everyone you know or talk to strangers about it. I'm not sure talking at someone who's not interested is ever really that effective. Just don't hide it.
Don't worry that you don't know what to say. Just direct them to the parish. There's plenty of people like me who love talking about Catholicism and want to talk to them. But you have to lead them to us.
Don't be ashamed…it's the Truth!
It's not hard for Catholics to feel beaten down by how the world views their faith.
Even when we know the Church has the truth about life, we continually get the message we're crazy for being associated with her. The Church contradicts the world, and it's hard to be different.
But take heart. The Catholic Church is making a difference in people's lives. It's leading them to Christ and passing on his truth and power.
Don't be embarrassed by your faith. Live it more fully. Receive God's joy. Then share it with someone.