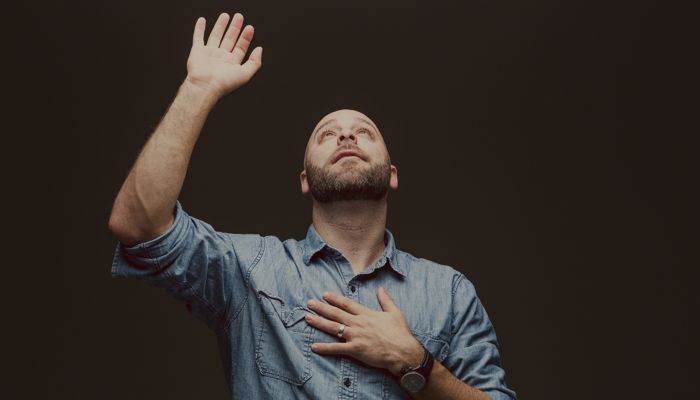 I was already a little tipsy when I started this conversation with Andre Regnier.
That didn't make it any easier.
Marcel Lejeune and I had already indulged in a few beers at the social before we went over to Damon's, a sports bar at the bottom of the hill Franciscan University is perched on.
It serves as the main hangout after activities at the  St. John Bosco Conference are finished.
Andre was at my talk earlier that afternoon and I was anxious to hear what he had to say. We had discussed evangelization the day before and he was intrigued by my topic–how to build conversion into your catechesis.
The conversation
"I loved your talk but something was missing," Andre told me. I found out later he has this conversation with a lot of Catholics speaking about evangelization.

"What?" I asked. I really wanted to know.
"Let me ask you a question. How do you know you have a relationship with Jesus?" he said. That took me off guard. I don't think anyone ever asked me that question before.
I fired back, "Well, I have a strong prayer life." I was sure this was the right answer.
"But how do you know?" Andre asked again.
Okay, this time I had to dig. I was sure I had it the first time. "I speak to Jesus about my thoughts and desires. I go to adoration regularly and spend time with him. I practice devotions," I said. But I wasn't as confident anymore.
"He's got you now," Marcel said.
"You know the answer?" I asked Marcel shooting him a glare. How did he know the answer?
"Of course I know the answer," said Marcel. "I've been hanging out with him all day."
"Okay, I'll make it easy on you," Andre finally told me. "You know because at some point you've said it. Either someone led you to say it or you've said it by yourself, but you know because you can trace it to a specific time when you verbally committed yourself to Jesus."
"People say that sounds too Protestant, but it's not," Andre continued. There's a solid Catholic tradition built around making a choice and performing an action to solidify that commitment. It's all over sacramental theology. Like in Baptism. There's a before and after. You're not baptized, a minister says words and pours water over you, and now you are. It's an action of God but you have to make the decision freely. If you don't, it's not valid. I'm not saying a verbal commitment to relationship with Christ is the same as a sacrament, but there's precedent for the power of choice and taking a concrete action to solidify it."
"Your talk was great. I agreed 100% with everything you were saying," Andre told me. "You laid out the Gospel perfectly, but then you stopped short. You didn't follow through. You didn't give them a way to take an action. You didn't lead them to a commitment. Don't feel bad…hardly any Catholics get this. It's not in our culture, but it needs to be."
Catholics don't follow through
That conversation really got me thinking. He was absolutely right. Catholics never follow through. We never have a call to action.
My gospel presentation did have a call to action, but it was fuzzy. It wasn't definite and concrete. It wasn't the kind where you knew you had committed yourself to something and now things would be different. I said something like, "Join yourself to Christ and his Church and follow him."
I was leaving it up to them. But that's not enough. We're bound up by inertia. Inertia and fear. It's the human condition. If you don't put them on the spot a bit, that commitment will probably never happen.
What if this became a part of religious education?
When I got back home, I told people about that conversation. I talked to catechists. I talked to priests. I talked to my RCIA team. Most people said the Catholic Church didn't operate that way. We don't put them on the spot, we respect how God is moving in them. What if they're not ready for commitment right away?
That's actually a valid point. Sherry Weddell lists the different stages of conversion in Forming Intentional Disciples. You shouldn't expect to get a firm commitment if someone's at the beginning stages. However, I'm afraid that idea keeps us from ever doing it…even when the time is right.
What Andre said got me thinking of ways to implemented this in a parish. What if, at the end of every year of religious education classes, we asked for a commitment? What if we led our students in a prayer that pledged them to relationship with Jesus? What if we led confirmation students to pray the same prayer before beginning preparation for the sacrament?
It could respect the ages and stages they're in. It doesn't have to be the sinner's prayer that commits their whole lives to Jesus. Or, it could be. I'm not sure.
But I do know this is something seriously missing from Catholic religious formation and this element of verbally committing yourself to a relationship with God needs to be somewhere.
What do you think? Where should this commitment be included? Is it too Protestant or can this actually be incorporated into Catholic religious formation?
Let me know in the comments below.