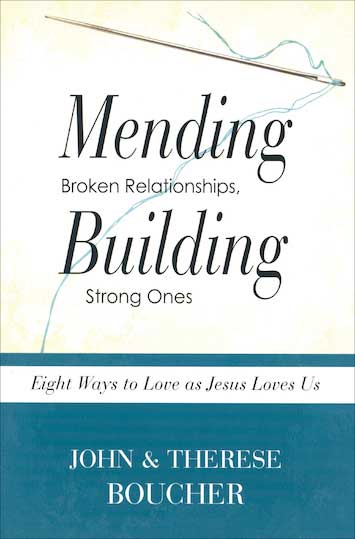 Christians love like Jesus…
Isn't that right?
Community is the hallmark of Christian discipleship, however…
The elements of community–friendship, accompaniment, fraternal love, service, and self-gift–don't come easily.
Jesus loved everyone perfectly. But the simple fact of being a Christian doesn't guarantee you can love like him.
Baptism doesn't instantaneously infuse you with all the virtues, and perfection doesn't come all at once. Grace builds on nature, and sometimes that takes a while because, when you're starting from a pretty low place like me, grace has a long way to go.
We're sinners. We're selfish, we make mistakes, and make decisions in our own best interests. Often that ends up hurting loved ones, destroying relationships, and alienating friends. We all need help.
Mending Broken Relationships, Building Strong Ones: Eight Ways to Love as Jesus Loves Us by John and Therese Boucher is that practical help for the Catholic Christian who feels the demand to love like Jesus, but doesn't always quite know how to make it happen.
Filled with practical advice, illustrative how-to's, and step-by-step guides, this is a Catholic primer for developing relationships. It's a field manual for implementing spiritual practices that will lead to deep friendships and lasting connections with others.
The human side of spirituality
What I like about this book is it gets at the human development that's needed to support and undergird that working of grace I just mentioned. Usually people only present the supernatural side of spirituality–pray the rosary, go to Mass, and the Holy Spirit will take care of the rest. But that's not what the saints do.
Sure, grace is primary, but holiness requires a level of human effort as well. This is the work of building virtue. Saints work on ridding themselves of character faults, bad habits, and sinful tendencies. They actively prune their personalities for holiness.
The Christian advantage is that grace elevates and matures that human effort. We don't have to do it alone…and that's a good thing. Even though some people think they can, no one will ever achieve saint-like virtue without grace. However, grace needs something to work with.
The healing that leads us to love like Jesus
This is a concept I implemented this year in my own ministry. At the Bishop Helmsing Institute where I work, we came up with a course for the Year of Mercy on forgiveness. We called it "4Given" because it highlights a 4-step process (get it?) for forgiving others.
Jesus says we have to forgive others and there's all kinds of spiritual benefits that come from it. But sometimes people have a hard time forgiving. They feel hurt and powerless and unforgiveness seems like their only weapon. Hearing Jesus say they have to forgive only brings more resentment.
A lot of times, before someone can accept the gospel and allow the Holy Spirit to work in them, they need healing or a practical process of steps to get them to a place where healing can happen.
We need evangelization resources that help people overcome human limitations…sort of like pre-evangelization. Work that takes people to a place where they can begin to love unselfishly, begin to open, begin to be vulnerable and allow the Holy Spirit to change their hearts. This book is that kind of resource.
Eight spiritual practices
Mending Broken Relationships highlights eight spiritual practices that help you love like Jesus:
Intercessory Prayer
Respect
Forgiveness
Gratitude
Affirming Others
Patience and Forbearance
Truth and Honesty
Healing Presence
Each chapter connects a practice to Scripture to learn how Jesus fit these into human life. The Bouchers also share about the difficulties and struggles involved in living with these practices. Finally, there are action plans…step-by-step guides to implementing them.
The authors, John and Therese Boucher, share deeply from their own personal experience. Through stories and insights drawn from their own lives, they illuminate the struggles, difficulties, and triumphs they've had with these practices.
The keys to happiness
Take a look at Mending Broken Relationships, Building Strong Ones. More and more I think good relationships are a key to real happiness. And, as I always tell my kids, making yourself good "friend material" is the best way to have good friends.
It was said of St. Thomas More that he was a man made for friendships because he possessed all the virtues to a high degree. Of course, that's the mark of sainthood isn't it? Try practicing these eight areas of strong relationships to improve your life.
NB: I received a copy of this book from the authors in exchange for an honest review.