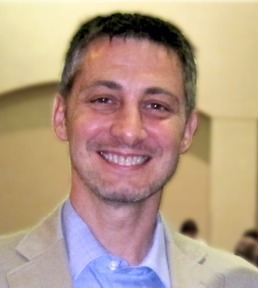 I'm Marc. I work for the Diocese of Kansas City-St. Joseph, MO, and I have a passion for evangelization.
This is where parish leaders, catechists, and parents can find ideas, information, and resources for handing on the beauty of the Catholic Faith in a way that inspires others to change their lives for Christ.
This life-change, or conversion, is the key factor missing in parish catechetical programming today, and it is an integral part of the New Evangelization.
Perhaps your 8th grade confirmation students don't believe in Jesus, or your RCIA candidates don't return after Easter. Maybe you're a parent who wants live faith in your family and make sure your kids to have a loving relationship with Jesus Christ.
Everything here is designed to help you effectively communicate the Catholic faith and impact lives.
Sound interesting?
Enter your email address below and click "Sign Me Up" to get free updates.
[ois skin="About Page Optin"]
Who is Marc?
I am a husband, father, and Director of Religious Education. Oh and…a blue belt in Gracie Jiu-jitsu.
I grew up Catholic but stopped practicing the Faith after my 8th grade Confirmation. I went to college at LSU, joined the Navy, and got married. Eventually, I became a Navy pilot flying SH-60B helicopters.
After a few years, I got my dream assignment overseas in Japan. I was living the life traveling all over Southeast Asia. It was really everything I was working for in my life.
But I got restless. I started searching for meaning in my life. I studied philosophy, Buddhism, the New Age Movement…nothing worked.
Then, through a series of strange events, I was re-introduced to the Catholic Faith of my youth and fell in love. It was everything I was searching for. In Catholicism, I found meaning, purpose, and truth.
I got out of the Navy and enrolled at Franciscan University. My goal–to learn how to convert people to the Catholic Faith.
At Franciscan I had two great influences. Dr. Scott Hahn, who formed me theologically, and Professor Barbara Morgan, who taught me how to pass it on. Eventually, I got a Master's degree in Catechetics from Franciscan and my current job right after that.
For ten years, I've studied, experimented, and practiced how to make evangelization happen–what makes people spiritually tick, what teaching styles work, why people believe in God, and why they don't.
Whatever I learned I tested. If it worked I kept it. If it didn't I threw it away. I've done a lot of tweaking and had a lot of success in converting people over the years.
My way may not the only way…but it works!
Want to the best way to get in on learning about these strategies? Just enter your email below and click "sign me up!"
[ois skin="About Page Optin"]
Why Evangelizing Catechesis?
Catechesis is a stage in the larger mission of evangelization.
It's supposed to mature an initial conversion and further educate in the Faith. That's fine if there is an initial conversion. But most of the time, that's not the case. In the average parish, only about 5% of the members are really converted.
The National Directory for Catechesis tells us:
"Today…catechesis must often take the form of the primary proclamation of the Gospel because many who present themselves for catechesis have not yet experienced conversion to Jesus Christ. Some level of conversion is necessary, however, if catechesis is to be able to fulfill its proper task of education in the faith." (NDC p. 57)
Here's the deal:
You're just spinning your wheels if your students are not getting converted. For catechesis to be effective, it has to be evangelizing. You have to make the most of every catechetical opportunity by making it evangelical as well.
What's the biggest problem with this? Everyone says you need to evangelize, but no one really tells you how.
Evangelization and catechesis are not the same thing. But they must work together.
I write about the "how" of evangelization–what to say, what to do, and how to change lives with the gospel of Jesus Christ.
With this blog I want to share my strategies and insights. It's not my intention to show off my success. If you already have successful, evangelizing programs that's great. Maybe my ideas can help you tweak them.
If you're frustrated and can't figure out how to get people to buy into what your teaching, I hope this blog will get you moving in the right direction.
Have you signed up to get free updates yet? If not, enter your email below:
[ois skin="About Page Optin"]
Thank you for taking the time to read this, and I hope to see you on the blog soon!