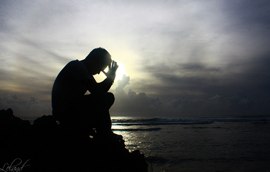 What is your deepest desire?
Do you think God wants you to have it?
I think many people believe being holy means being miserable. That God doesn't give us what we want the most because it's selfish.
So we run from him to pursue our dreams.
Is that really necessary? Is God's will found only in what we least desire?
St. Therese of Lisieux paints a different picture of desire. One that resonates to the core for me.

Is it selfish to ask God for your desires?
I once met a brother in a religious community who had a reputation for holiness.
He told me about his desires for the priesthood and missionary work. They were lofty goals, but I thought they were good ones. I remarked offhand that he better start praying! His reply was, "I never pray for myself."
It struck me as odd. What did he mean by that? It's like he was saying it was too selfish to ask God for what he desired…even something good. Did he think it was too presumptuous and bold to ask for himself?
God puts his desires for you in your heart
Fr. Michael Scanlan, the former president of Franciscan University, once told the story of how he hesitated to become a Franciscan.
He just knew that if he did, God would send him to Africa to be a missionary, and he hated that idea. He strongly desired to be a Franciscan, but he really did not want to go to Africa.
Finally, when decision time came, he confided in his spiritual director. The director told him not to worry. If God wanted to send him to Africa, God would put Africa in his heart.
In other words, if God's desire was for him to be in Africa, that would become his deepest desire as well.
"He makes us desire, then grants our desires…"
St. Therese expressed something similar. She was supremely confident that her deepest longings were, in fact, what God most wanted to give her. She once told her sister that "the good God never gives desires that He cannot fulfill."
In fact, for Therese, the desire itself was a sign that God wanted her to have it. It meant he was preparing her to receive the gift. She said, "He makes us desire, then grants our desires…"
For instance, it was Therese's deepest desire to become a Saint. So, as her logic went, since God put that desire there, he had to see it through.
Therese had an intimate relationship with God and her trust in him was boundless. She boldly asked what she wanted, and God granted her desires because he was captivated by her audacity and trust.
The place of renunciation
Obviously, there is a place for renunciation in the spiritual life. Sometimes our desires need to be purified.
Sinful desires only take us farther away from God and the blessings he longs to lavish on us. Because of our fallen nature, sometimes these get in the way. We have to mortify them–put them to death.
However, those aspirations that are good, noble, and lift us toward God when we dream about them–those are a different story.
Spiritual Takeaway
God doesn't want you to be miserable. You don't have to give up what you most desire to follow him.
Our desires come from God. They are what he wants most for us. They speak to our mission in the world, the part we play in furthering the kingdom of God.
What is your deepest desire? Talk to God about it! Don't be shy–be bold. He wants you to tell him your feelings, desires, hopes and dreams. Honest, transparent conversation with God is how you match up your desires with his desires for you.
Ask him how you can follow your dream and also grow in relationship with him. I think these are interconnected.
Do you pray for what you want? Do you think it's selfish to pray for yourself? Let me know in the comments!