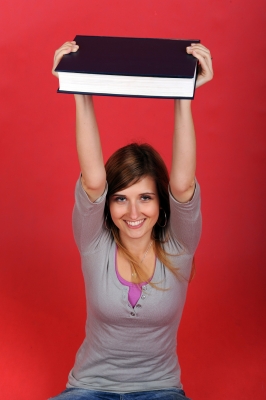 [This is a part of the Fundamentals of Effective Catechesis series.]
Catechetics is the art and science of handing on the Faith.
It is the theory behind the craft of catechesis.
This theory is mostly found in the Church's magisterial documents on catechesis.
In terms of the fundamentals, this is the basis behind everything we do.
Now you're probably thinking you don't need theory. After all, you've got the textbook and it tells you what to do.
Well, here are five reasons why catechists should learn at least some catechetical theory and dump the textbooks–well not completely but at least not rely on it so much for lesson planning.

1. Textbook lesson plans suck
Let's face it, sometimes the textbook lesson plans are really bad. Textbooks are useful as source material but they often need some fixing up in how they present the information.
Early in my conversion, I volunteered to teach CCD.
I was so excited to pass on all the great stuff I was learning. I wanted my students to get fired up for God and the Catholic Church. I was handed the textbook and told to do what it said. Everything I needed to know was in there they said.
The kids were bored out of their minds reading out loud all the time. The lessons plans lacked focus, and there was too much information. It got confusing for the kids and for me sometimes. The result? The students didn't learn.
2. Lessons will be better because you control them
Catechetical theory helps you understand the elements that go into a good lesson. If you understand this, you can figure out your own lesson plans.
You'll understand what to focus on, where you want to draw them out into discussions and how to use the Bible, the liturgy and stories to engage students and bring out their faith.
Your lessons will be incredibly more engaging because you created them and will be more enthusiastic about them.
3. Theory is fascinating when you're interested in the application
I'll admit, theory is usually not appealing. That is, until you're excited about something and want to do it well. Then, the inner workings become fascinating.
I struggled through physics in college. It was just too boring to study. But when I became a Navy pilot, aerodynamics become infinitely fascinating.
Why? Because I was interested in the application. It was why the plane flew! That helped me fly it better.
Theory is only dry when you're not interested in the application.
4. It really works!
After my initial failures, I realized I needed to learn more! I ended up becoming part of the Catechetics program at Franciscan because I wanted to be an effective catechist. I wanted to convert people and make a difference.
And the best part–it worked! People began responding to my teaching. It touched their hearts and changed their thinking. I became very effective and I wasn't always sure why!
But let me tell you, I'm not a natural teacher. If I could get better, anyone can.
5. It will set your heart on fire
I want to give you some of the background I learned in catechetical theory. When I learned this it opened my eyes and set my heart on fire!
Learning this stuff will energize you and make you on fire for being a catechist. When you see the improvement and the response from your students, it will change your attitude completely.
Catechetical Takeaway
Understanding catechetics, the theory behind catechesis, helps you grow as a catechist. It will enable you to go beyond the textbook presentation, the lessons will be more interesting and you'll enjoy them more.
Plus, the increased success with your students will seriously motivate you.
For more reading on catechetical theory and what the Church says about catechesis see:
This was the first part of Fundamentals of Effective Catechesis series. Stay tuned for more installments in this series as I flesh out more of the method.
Let's talk about this in the comments!
What frustrates you about textbook lessons and planning?
What are your biggest problems with engaging your students?
Do you have success stories to share?