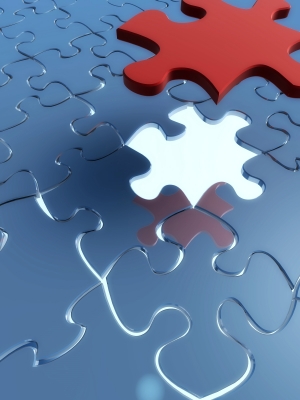 [This is a part of the Fundamentals of Effective Catechesis series.]
Catholicism is made up of so many different doctrines, it can be difficult to understand.
If you don't consider this problem, your students will view the Catholic Faith like a jigsaw puzzle without the picture on the cover.
They'll have many of the "pieces" of Catholicism but they won't know how they all fit together, and they won't understand it completely.
The key to avoiding this problem is to clearly organize your catechesis around a central idea, a "cover picture" if you will.
This works incredibly well because…

We're wired for connections
We're made to want to fill in gaps, to understand the whole picture. That's just how we're wired.
My grandmother loved large jigsaw puzzles. You know, the kind with tons of pieces?
The only way you could tell where they fit was to look at the picture on the box cover–and even then it was hard!
She did them on a table in the living room. Of course, everyone would take a shot at finishing the puzzle. No one could resist!
And how is it that any one of us, without any prior experience of the puzzle, could sit down and just start working? We had the picture on the cover as a guide. We knew how everything was supposed to fit together.
The Catholic Faith is unified, connected and organized around a central idea.
However, if you don't know that idea, you'll have a hard time seeing the connections. The Faith just seems like a pile of pieces that don't fit together.
The Informational Gap Theory
George Loewenstein, a behavioral economist at Carnegie Mellon University calls this the Informational Gap Theory.
We're intrigued by gaps in our knowledge. This is basically the definition of curiosity.
Gaps cause pain. We seek to fill them to stop that pain.
I think there's also another aspect to this. If we can't make sense of the information and put it in a logical pattern, we give up on it. The frustration of gaps that can't be filled becomes too much.
Catechetical Takeaway
The Catholic Faith is far more than a list of truths to be memorized.
Catholicism is beautifully complex. It is a  rich network of interrelated ideas and concepts that mutually interpret each other. And, it has a central idea that ties everything together.
Most of the doctrines that people reject were formulated within the context of this network. They can only be understood within this context as well.
Most Catholics haven't been taught to view the Faith this way. Catholicism just a pile of puzzle pieces that don't fit together. This causes people to turn their backs on the Church because it doesn't make sense to them.
However, when they learn how to put the pieces together, the lights come on and attitudes completely change.
As a catechist, you must give your students a "cover picture," a central, organizing theme that helps them fit all the doctrinal puzzle pieces together. These connections will help them learn because people are wired to think this way.
It's your turn:
When has learning the big picture helped you understand Church teaching?
Have you seen this work in your own classroom?
Do you think this has contributed to rejection of Church teachings?
P.S.
This was the second part of Fundamentals of Effective Catechesis series. Now, to use the Gap Theory to my advantage and pique your curiosity! 😉 Check out the next post in the series where I'll explain what the central, organizing theme is and how to use it.