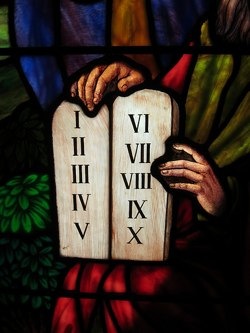 Name the 10 Commandments. What's the first one you think of?
Most of the time people say the "thou shalt nots."
Thou salt not kill. Thou shalt not steal. Thou shalt not covet.
What's interesting is they don't start that way! The first commandment is not a "thou shalt not," and it holds the key to understanding the rest.
So why do so many people concentrate on the negative? It's easy, we view religion through the lens of law, and laws make people good.
But is being good what Christianity is really all about?

Why do we view religion through the lens of law?
We're conditioned to think this way. We live in a rules-based society.
There are rules in society and rules in our homes. When you were growing up, most likely your parents corrected you by saying, "don't do this or don't say that." It's kind of the way we operate.
Now there's a "new parenting" that stresses making only positive statements. Don't correct the negative they tell you. But I can't help it. I still fall into that same "don't do that" mentality.
Is religion about being good?
There's a problem with this rules-based viewpoint when it comes to religion. People think Christianity is just about being good and not breaking the rules.
There are two things I hear all the time.
"Why do I need religion? I'm basically a good person. I follow all the rules already. There's nothing religion can do for me."
"I'm a good Christian because I don't break any commandments. Christianity's about being good and I'm good because I follow the rules. I don't need to go any deeper."
A rules-based viewpoint only gets people thinking about the bare minimum they need to get by. What rules do they have to follow to be good? Why follow the rules if I'm already good?
However, you can't really get the full benefit of Christianity by just following the rules. Christianity is not merely about being good. It's about relationship.
The first commandment sets the tone
If you don't get the first commandment, all the rest might as well be just a bunch of rules. The first commandment sets the tone.
The first commandment is delivered within the context of relationship.
Worship the Lord your God
"I am the Lord you God, who brought you out of the land of Egypt, out of the house of bondage."
God reminds the Israelites of all he's done for them. He rescued them from Pharaoh. They made a sacrifice, ate a meal, put blood on their doorposts, and were saved.
God asked them to cut all ties with their former life. He promised to take care of them and they trusted. They pledged themselves to God and he took them in as part of his family.
Him alone shall you serve
"You shall have no other gods before me."
It sounds like God is petty and maybe a little afraid of competition. If he's so great, why is he afraid of rivals? Does he have low self-esteem?
You have to look deeper than that. God is saying, "If you're going to be in relationship with me, I have to be in the center or it won't work. God knows that we need him. And, he knows that life doesn't work right if he's not in the center.
God can't be just one of those hundreds of things hovering around you in orbit. He has to have the center place.
Your one-stop God
This is radical for the Israelites! They were used to having lots of gods. They had a god for every need. And, when they needed something, they would take that god out, put it on a shelf, and pray to it.
God said all that had to stop. He couldn't be put on a shelf and taken off when needed. He didn't want them placing their trust in hundreds of other things. He had to be the only one. He wanted to be their one-stop God.
Who or what are your gods?
And, don't you do that too? I know I do. I rely on talent, hard work, and extra hours to make the difference in my work instead of turing to God for help. I'll often place a hundred other interests and concerns in front of devotions to the Lord, to prayer, and to penance.
I have time for hobbies but I often don't have time for prayer.
Catechetical takeaway
Religion is not merely about following rules or being good. It's not about being bad either though.
Religion is primarily about being in union with God.
From the beginning, God has made us to be united with him. That is our goal and destiny.
God first established a relationship with Israel. He asked them to believe in him, to trust in him completely, and to be a part of his family. Only after this relationship of faith and trust was established did he give them rules for family life.
The 10 Commandments are rules for living in God's family. If you want to be a part of it and share in the great benefits, this is how you should live. Otherwise, you should be in another family.
The rules are ordered toward relationship with God. They are necessary for continued and deeper union with him. God wants us to be good because he is good. In acting like him we stay close to him.
The commandments are not the goal, they are the means. Like everything else in Catholicism, the goal is union and the love that never ends.