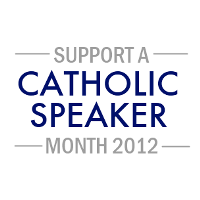 Effective catechesis depends on a knowledge of salvation history.
The understanding of God's actions in history and  his dealings with mankind reveal the inner truth of who God is–Father, Guardian, Lover.
A few months ago, I heard Dr. John Bergsma speak at Franciscan University, and I was very impressed with the way he presented covenant theory and salvation history.
I think his method, laid out in his new book Bible Basics for Catholics, will be extremely useful for catechists wanting to teach salvation history.

Drawing his way through salvation history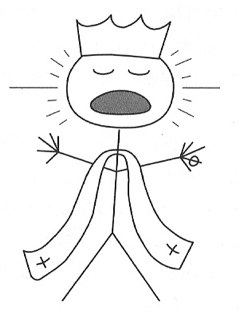 Dr. Bergsma told me he came up with his unique style trying to reach large classes of college freshman in his introductory Scripture course at Franciscan.
To help them remember, he used the covenants God made with mankind through 7 mediators: Adam, Noah, Abraham, Moses, David, and Jesus. To keep their attention…he drew.
Bergsma developed a set of simple line drawings with symbolic elements to capture the important themes of the covenants.
For example, to indicate Adam is God's son, he draws him with a shining face reflecting God's glory. Because he's priest, prophet, king, and bridegroom Adam also has a stole, a big open mouth, a crown, and a wedding ring.
From pro-life Protestant to Catholic Scripture scholar
Dr. Bergsma is actually a fairly new Catholic. He entered the Church in 2001. Before that he was a Protestant pastor for four years.
Why did he become Catholic? It started because his wife couldn't work while he was in seminary.
Bergsma met and married his wife while still in Protestant seminary. He was strongly pro-life–an influence received from his mother. Without that influence, they would have contracepted and his wife could have supported the family through school. Other seminarians did it. For him, that wasn't an option.
While his wife stayed home with the kids, he worked part-time as a pastor to pay the bills. However, during that time he became disillusioned with the practical working out of his Calvinist theology. He also found contradictions with things he was learning in Scripture.
When it came time, he couldn't be ordained. So, he decided to get a PhD and become a biblical scholar. He studied under a Calvinist Scripture scholar at Notre Dame, of all places. He was still a long way from being Catholic, though.
It was at the Notre Dame married student housing that his journey to Catholicism was cinched. There he met young Catholic grad students on fire for their faith and knowledgeable about Church teaching. They introduced Bergsma to the writings of the Apostolic Fathers, and he saw the Catholic Church in the early Apostolic Church.
He realized the Catholic Church wasn't apostate from the early Church, it was the early Church. It was the Protestants who deviated from the early biblical Church. After his worldview of Church history was flipped, he knew he needed to join the Catholic Church.
As part of his transition, he met and spoke with Dr. Scott Hahn. Eventually, he got his PhD from Notre Dame, began working with Hahn at the St. Paul Biblical Center in Steubenville, and later gained a position at Franciscan University teaching theology.
A gifted Catholic speaker
Dr. Bergsma is an entertaining and highly effective speaker.
He has a casual style and is very funny. He throws in little off-the-cuff quips that make the presentation lively and fun.
In the presentation I saw, he used several white boards to actually draw the little stick man covenant drawings and taught along the way. Very engaging.
The drawings made a great visual reference…and he didn't mess up once! Either he's a very good artist or he's been doing those drawings a lot! Since he told me he hasn't had an art class since 8th grade, I thinking it's probably a little of both.
Either way, they are a great device that make the concepts easy to remember.
Bible Basics for Catholics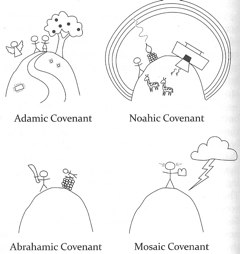 You don't have to see Dr. Bergsma live to get a feel for his teaching (although he's well worth seeing live).
His new book, Bible Basics for Catholics published by Ave Maria Press, conveys his thought and style well.
The best part is, all of his illustrations are there in the book. He even goes step by step through the process of doing the drawings so you can reproduce them yourself. None of the illustrations are complex. They are mostly stick figures.
The book is written in an accessible style and makes covenant theology down right fun.
The cute factor in the illustrations alone got my wife to read it.
Catholic speaker takeaway
Dr. Bergsma is a great speaker. He has a way of making covenant theology and salvation history extremely clear and understandable.
He's very down to earth. No theological jargon, no incomprehensible words, and plenty of anecdotes and personal stories to make his point.
His combination of witty humor, great illustrations, and solid understanding make for a great presentation.
Here's a 10 minute audio from Lighthouse Catholic Media of Dr. Bergsma speaking on the Dead Sea Scrolls. This will give you a taste of his speaking work.
Also, here's a video of Dr. Bergsma giving a talk titled, "The Mass as Marriage Supper: Square Brides and Sheepish Grooms in Scripture." This is a more scholarly talk and he doesn't draw in this one. It's about 50 minutes long.
This post is part of Support a Catholic Speaker Month 2012, a project put together by Brandon Vogt.
Throughout September, bloggers are writing on the top  100 Catholic speakers in the country. Follow the link to Brandon's site and check out the other 99.