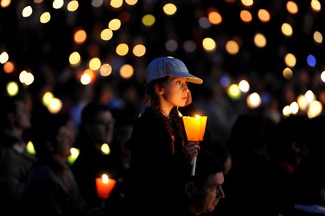 Catholic religious education is failing.
Catholic children are instructed in the Faith, yet the Church is hemorrhaging members.
Most of them are going to evangelical protestant churches. They're not leaving Christianity, just the Catholic Church. Why?
I've found one clue in Fr. Michael Gaitley's book, "The 'One Thing' Is Three."
One concept with powerful implications. It's called the enrichment of faith.
It was the key to John Paul II's pastoral strategy. It could be the key to making a new evangelization actually happen. Here's what keeping faith real is all about.

What is the enrichment of faith?
The enrichment of faith is a concept Archbishop Karol Woytyla (later Pope John Paul II) developed from his interpretation of the Second Vatican Council.
It's the idea that faith is only truly enriching when it's a lived reality in the heart of the believer. And, it must be communicated that way.
Vatican II was called to address a problem–the split between what modern Catholics said they believed and what they actually lived. It would do this by re-proposing Catholicism in a new way, a way that would appeal directly to modern man and heal the split.
Archbishop Woytyla made this his primary mission.
Everything, "all pastoral activity," Woytyla wrote, was to be directed toward fostering a mature faith that was fully lived. According to Fr. Gaitley, the enrichment of faith also became the backbone of his pontificate as John Paul II…a "key pastoral priority."
"Everything he did flowed from this idea," Gaitley said. "He was constantly making the faith concrete and livable. He was constantly helping the faithful to bring the Gospel home to their hearts and into their lives."
How real faith is communicated
According to Fr. Gaitley, Blessed John Henry Newman is an example of someone who made the enrichment of faith happen.
Cardinal Newman's homilies and books boil down to one thing–making the faith real. "Newman throws himself into his writing such that you actually meet him there," Gaitley says. He communicated real faith, enriched faith, by telling us how he lives it.
Gaitley cites a Newman scholar who says:
"Whoever reads Newman…cannot fail to be fascinated by the way he lives in his writings and speaks to his readers through them….Newman is also present in his words, not only explaining how he personally came to the truth, but also giving witness to the truth."
Newman's secret was communicating real knowledge verses notional knowledge. The notional is any knowledge that is general, abstract, or merely conceptual. According to Gaitley, he found the "old Anglican platitude-laden sermons that used so many words yet still said nothing" soaked in the notional.
The opposite of notional is real knowledge. It's born of experience, passion, and life. This is knowledge acquired because faith has changed you. Conveying this kind of knowledge moves the heart and enriches faith.
"Enriched faith gets passed from one heart to another," Gaitley says. Newman's episcopal motto–"cor ad cor loquitur," or "heart speaks to heart." The real, personal, and lived knowledge flows from the heart, and this has the power to change another's heart.
"Vagueness doen't move people," Gaitley remarks.
The Catholic presentation of Christianity is no longer real
So, why do so many Catholics need to leave the Catholic Church to actually convert to Christ? Because evangelical churches make Christianity real!
Their sermons are personal, passionate, and witness real faith. They preach about real issues. Their small groups address real problems.
Their biblically based theology is incomplete, but it's in touch with the Word of God and the words of Jesus. That is real, and it works to move toward initial faith.
Catholic religious education is the epitome of notional. It's abstract and impersonal. It stresses learning doctrinal formulas, not living them. In Catholic schools where religion is just another subject to learn, it's the worst.
Most parish adult education and RCIA classes are like theology lectures. Most homilies are abstract and sterile because priests are afraid to share too much of themselves.
The enrichment of faith and the new evangelization
The mandate of Vatican II is not even close to being accomplished.
This is the reason John Paul II called for a new evangelization. Catholics are not living with enriched faith.
The Council sought to update the presentation of the Faith in a way that would seize the imagination and soul of modern man. In reality, the new evangelization is an extension of the mission of Vatican II.
I think John Paul II had the enrichment of faith in mind when he called for evangelization with new ardor, methods, and expressions. He envisioned new ways of presenting the Faith to make it real in the lives of today's faithful. Blogs fall into this category. They bleed the author's personality.
I'm continually stressing this with my concept of evangelizing catechesis. By telling your stories, sharing how you feel about your faith, and sharing yourself with your students, your catechesis conveys real knowledge that can enkindle the hearts of your students.
Faith must be real to be attractive, to convince others to want to take it up. It must be communicated through the transparency of a real life that has been transformed, a real faith that has transformed.
Catholicism has the power to change the culture, to change society. But to be an effective force for change, it must be lived.
Is it fair to say a notional presentation of the Faith is killing the Catholic Church? What are some examples of the notional you experience in the Church? How do you keep it real in your classroom? I'd love to know.
Photo Credit: Catholic Church (England and Wales) via Compfight cc