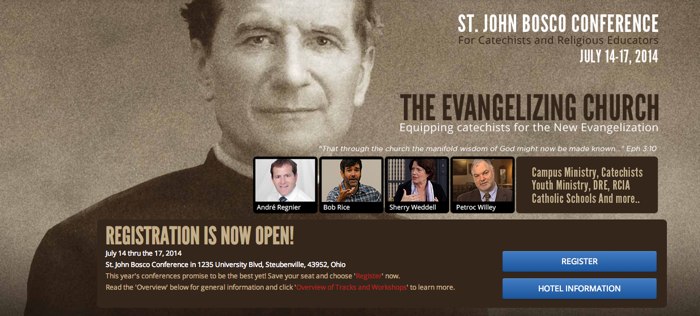 Okay so…it's the end of the year. Your classes are over, or they will be soon.
You're tired, burned out, and ready for summer.
But you're DRE is already asking if you want to teach again next year! Really? How can you get ready for that?
You need that fire back before Fall. You need energizing. You need a conference!
And I've got just the thing for you.

The Conference Effect
Have you ever been to a live concert? There's something about a live concert that really fires you up for that band's music.
It's the concert effect.
I remember going to rock concerts when I was in high school. My friends and I would get together before the show and listen to the band's albums (this is before CD's) really loud. We'd talk about the band, about the last time we saw them, and what we hoped they'd play.
We listened to the music all the time, we knew all the songs by heart, but it was just more exciting to see them in person.
The concert was always way too loud. It sounded way better on the stereo, however, the concert experience was breathtaking. The thousands of screaming fans just like myself, the spectacle of the performance, and of course, the sea of requisite concert t-shirts, all came together to make an unforgettable night.
No matter how many times I'd heard that band before, after the concert I was always more energized for their music.
The same thing happens at conferences. Well, the right conferences.
The right conference?
You can probably guess by now that I think the St. John Bosco Conference at Franciscan University of Steubenville is the right conference. Actually, it really is.
I wrote about this conference last year calling it The Best Catechetical Conference You've Never Heard Of. It's true!
People describe this as more than a conference. It's like a retreat, a spiritual renewal experience, and a conference all rolled into one.
It's three and a half days long. In there are three Masses, two holy hours, four keynote addresses, and your choice of 70 workshops. The workshops are organized in general categories of Campus Ministry, Youth Ministry, Catholic Schools, DRE, RCIA, and Catechist Training.
Each of these categories is actually a track that can lead to certification in that area if you attend over several years. However, you don't have to do that. You can pick and choose or sign up for the new Open Track, a collection of sessions designed to address current issues and trends within the catechetical field. 
The Masses and holy hours are incredible, and they have the best homilists you've ever heard.
The best reason to go
But the best part of conferences is the conference effect. That's where you get energized.
So, I speak every year at the St. John Bosco Conference Catechist Training Track. You read my posts all the time (at least I hope you do), but if you go to this conference, you'll see me in person and be even more into my writing.
Okay, I'm just kidding. I'm really the least attractive part of the conference (well, maybe not the absolute least). But there are two speakers I'm really excited about seeing there and I know you will be too.
One is Andre Regnier. He runs a student evangelization ministry operating on college campuses across Canada. He's like the Curtis Martin of Canada. I met him at Bosco last year and he's dynamic. I'm reading his book on evangelization, Catholic Missionary Identity, and it's amazing. More on that at a later date.
Andre will be doing a keynote and several lectures in the Campus Ministry track. He's actually the co-coordinator of it.
The other is Sherry Weddell of Forming Intentional Disciples fame. I've recently written about her ideas on the tendency of Catholics to be shy about speaking the name of Jesus and how that applies to families.
Sherry will be doing a keynote and a series of workshops on ideas from her book within the Campus Ministry Track. This is a can't miss opportunity to get a lot of instruction from Sherry!
The Steubenville Effect
Franciscan is a magical place. The town of Steubenville is, how do I put this delicately, a pit. You might wonder if you're in the right place when you drive through the town to get to the university.
But once you get to the holy hill, it's like a spiritual oasis. The Holy Spirit is always moving and people who go there can feel it. You can't help but be affected by it. In case you didn't know, there's also a Steubenville effect.
You need fire, you'll get it here. Burned out? You'll be energized and ready to go.
So, what do you say? This year (and next) in Steubenville? The St. John Bosco Conference is July 14-17.