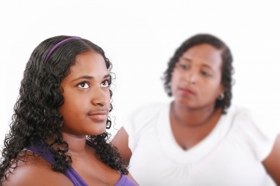 What do you say when your son or daughter doesn't want be Catholic?
When they don't want to go to Mass or refuse to go to CCD?
To the kids out there, do you think your parents are forcing you to be Catholic?
Obviously, this parent/child conflict over religion is a real issue.
I know because I get a ton of traffic from parents and kids searching on this topic.
The statistics are pretty telling too. The majority of millennials are absent from the Catholic ranks.
As someone who's been on both sides, a kid wanting to drop Catholicism and a parent wanting to keep my kids Catholic–here's my take.

One of my most searched topics
Parents come here from search phrases like "my child doesn't want to be Catholic" or "my daughter doesn't want to go to CCD." The kids come at it from the opposite side with searches like "parents forcing me to be Catholic" and "my parents force me to go to CCD."
They all land on this post about gently but forcefully nudging your kids to be active in their Faith…even when they don't want to.
I was definitely in the "not wanting to" camp when I was a teen. In my case, there was no big spiritual conundrum.
The freedom I so longed for revolved around sex. The Church told me premarital sex was wrong, I wanted to have sex, so I just ignored the Church…and then stayed away. I wanted liberation for hedonism.
Is this brainwashing?
Some people consider forming your kids in the Faith from the earliest age to be brainwashing.
Apparently for some, this is not respecting their freedom.
From my perspective, I'm informing them about reality and enabling their freedom. I'm helping them understand that only in union with God can a person truly understand the meaning of life.
Only with grace can they reach the full flowering of their personhood.
Why don't people talk this way about other things?
This argument is only an issue with religion.
No one lets their children decide if they need an academic education. People "force" their kids to go to school all the time. Children don't have the life-experience to see the big picture. Parents make decisions for them.
Education is essential for kids to to grow up healthy and mature…to take their place in society.
Religion is the same. Kids need an active faith life reach full maturity in Christ and discover their mission in God's kingdom. It's essential they start young. Like an academic education, it can't wait until they're adults.
If you were in my shoes, you wouldn't say this
If you were standing in my shoes and looking at life from my perspective, you wouldn't say this.
I've had the experience rejecting religion, especially Catholicism. I've lived life on both sides and I can tell you–it's much better with the Church.
Life is empty, purposeless, and bitter without it. Yes, there are rules. But if you relax and let yourself be led, you'll realize the rules bring real freedom.
Will my kids stay Catholic? I honestly don't know. Will I still love them if they don't share my beliefs? Yes I will.
I won't disown them or refuse to see them. Evangelizing my kids is not about coercion or forcing or brainwashing. I'm not indoctrinating them to do anything illegal or against their will.
I'm educating them in life…life to the full, the way I see it and know it.
Catechetical takeaway
For all of you kids reading this, I would invite you to take a second look at Catholicism the way I did. Are you so satisfied with your life that nothing could change?
Maybe you're missing something you never really knew.
For all of you mothers and fathers out there, Catholicism is the perfect roadmap for life. There is no more complete system for explaining life and understanding how to live it well.
Tell your kids you love them and want them to be fulfilled. Tell them you know in your heart true happiness and fulfillment only comes in union with Christ. And then…pray for them.
Image courtesy of David Castillo Dominici / FreeDigitalPhotos.net