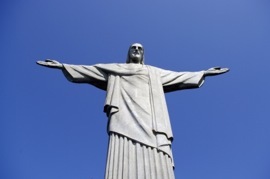 In his parting words to the apostles, Jesus left instructions that would become the essential mission of the Church.
"Go therefore and make disciples of all nations, baptizing them in the name of the Father and of the Son and of the Holy Spirit, teaching them to observe all that I have commanded you; and lo, I am with you always, to the close of the age." (Matthew 28: 19-20)
Make disciples (evangelize), baptize, and then teach the Deposit of Faith (catechize). This is the process for fulfilling Christ's mission of evangelization.
In fact, the Church has identified five stages to incrementally lead a person through this process.
The problem is, the process is all mucked up. You can't count on it being done in the right order…or even at all. And, to make matters worse, unless you follow this process, accomplishing the mission is very difficult. That's why there's so little faith.
The five stages of evangelization are extremely important, but they're useless in most catechetical situations. You'll have to ignore them…but not forget them!
By intimately understanding the stages, you can use them in a different way to accomplish Christ's mission. Here's how.
The essential mission of the Church
Pope Paul VI in his landmark encyclical on evangelization, On Evangelization in the Modern World, wrote:
"Evangelizing is in fact the grace and vocation proper to the Church, her deepest identity. She exists in order to evangelize."
When we speak about evangelization as the essential mission of the Church, that encompasses more than you might think. In this sense, evangelization not just missionary activity. It's referring to a whole process of catechetical ministry that takes a person from unbelief to full maturity in Christ.
So where does catechesis fit in? Catechesis is a stage, or "moment," in that process.
The stages of evangelization
Here are the five stages of the Church's evangelization process taken from the National Directory for Catechesis:
Pre-evangelization: This stage seeks to show that our basic human desires for security, love, and acceptance find their fulfillment in God. It answers the fundamental questions of life such as: Why do I exist? Where does everything come from? Why is the world the way it is? What is my purpose in this world?
Initial proclamation of the Gospel: This is directed toward: non-believers, those fallen away, those of other religions, and the children of Christians. It seeks to make persons aware of their sin and their need for salvation in Jesus Christ. The aim of this stage is conversion.
Initiatory catechesis: Now, after evangelization and conversion, we're getting into catechesis. This stage introduces, in an evangelizing way: the life of faith, the liturgy, and the love of God. It's for those coming into the Church, those completing initiation, children, and the young.
Mystagogical or post-baptismal catechesis: Catechesis doesn't end at initiation. After baptism, people need to be led deeper into living the Christian life, receiving the sacraments, praying, and spreading the Gospel themselves.
Permanent or Continuing catechesis: Finally, at the end of the process, we come to the systematic presentation of the truths of the faith and the practice of the Catholic Faith. This is catechesis proper. It nourishes faith through deeper study and fosters continual, ongoing conversion.
The heart of the problem
Now, the heart of the problem. As I mentioned before, the stages of evangelization are mucked up. Our catechetical programming isn't really set up to follow them.
Notice that children fall specifically under stages 2 and 3. However, Catholic children typically skip stages 1 and 2. We do some with stages 3 and 4 in religious education, but mostly go directly to stage 5. Systematic catechesis is essentially what we do in CCD. Kids go into catechesis without ever being evangelized.
But even if programming was set up to use the stages, life is messy. Not everyone starts out just right and progresses along perfectly. Sometimes people come late to faith and need to be fit in. Or, for whatever circumstances, they just show up in your classroom and you need to teach them.
You might be saying, "So what? What difference does it make?" As I also said before, the real truth is, without evangelizing first, catechesis is not effective. Basically, if your students are not evangelized, you're spinning your wheels.
What's the solution?
Catechesis has to be evangelizing to be effective
For catechesis to be effective, it has to be evangelizing catechesis.
"Today, however, catechesis must often take the form of the primary proclamation of the Gospel because many who present themselves for catechesis have not yet experienced conversion to Jesus Christ. Some level of conversion is necessary, however, if catechesis is to be able to fulfill its proper task of education in the faith." (National Directory for Catechesis, p. 57)
You need to understand and respect the stages…that's the way faith works in human persons. But you can't count on them. Your students aren't following a nice simple path up the ladder. So, you have to ignore them, or better yet use them to your advantage. You have to combine them by evangelizing at the same time you catechize.
It's sort of counter-intuitive. It's like an algebra teacher that has to go back and teach addition, subtraction, and multiplication because students didn't learn it yet. Catechists need to do this because conversion is essential for your message to sink in.
Evangelization takeaway
The Church evangelizes. That is her mandate and mission.
It is the only way to fulfill the larger plan of God, the reconciliation and unification of God and man. If people don't know God and seek to follow him, they can never become one with him. They need conversion for this to happen.
To be truly effective, catechesis has to be evangelizing catechesis or it won't accomplish it's mission. Stay tuned to future blog posts for evangelizing practices you can use in catechetical sessions to open hearts and allow your message take hold.
For now though, what about you? What things to you do to proclaim the Gospel and evangelize in your classroom?
Image courtesy of zole4 / FreeDigitalPhotos.net