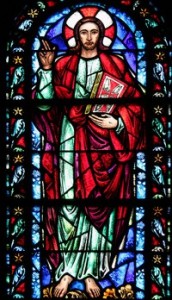 [This is a part of the Fundamentals of Effective Catechesis series. Have you seen the other posts?]
The mystery of Christ, God's divine plan of salvation, is ongoing.
St. Paul wrote about it a long time ago but it's not over and done with.
What's more, baptized Christians are part of it and have an active part to play in it.
Evangelizing catechesis aims at making students aware of this and geting them fired up to play their part.
It's like getting them ready for a play. They have to understand the storyline and what role they play. You could say participation in the mystery of Christ is the role of their lives. That is what it will take and the story is real!
So how do you prepare your "players"/students to take up their role and play their part?
There are the four ways of preparing students for participating in the mystery of Christ.

1. Biblical catechesis
It seems obvious but the Bible is the first place for kids learn about the Jesus and his great mission.
From the earliest grades, students need to hear the important stories. You know which ones–the ones that are always told. Adam, Noah, Abraham, Moses, etc.
However, don't just tell cutesy stories, relate them to Christ! Make Christ shine as the radiant center of the whole Bible by relating everything to him…Old Testament stories as well.
This is a progressive initiation adapted to age of the students. In the beginning grades, kids can't grasp the whole big picture. You have to lead them into it gradually.
First, they learn the characters and the storyline. Gradually you add more and more pieces with greater detail.
Eventually, in middle school, the students begin to put everything together to a point where they can understand the entire system and how it all fits together.
2. Liturgical catechesis
Understanding the liturgy and taking part in it is vital to catechetical formation.
Jesus is not just a historical figure. He's alive and active and at work in us. He's inviting us to be with him.
Through personal contact with him, we receive him into our souls, and are made more like him. This happens in the liturgy.
The liturgy is unique and valuable for catechetical formation. Not only does it teach the mystery of Christ, it makes it a present reality. Even in the early grades it should have a primary role.
3. Systematic catechesis
Younger children aren't as capable of grasping the whole system. They need concrete details backed up with concrete experiences–activities, actual participation in liturgy, and prayer.
However, as they get older, things start to shift. They need to understand more of how the Catholic Faith is organized and why. This is where systematic catechesis takes a front seat.
A systematic presentation gives the logical ordering of doctrine. Some truths form the foundation of everything else. These core doctrines must be understood before other, more complex connections can be made.
Systematic catechesis presents the Faith in the most logical and easily understood progression.
4. Relational catechesis
You often hear the faith is more caught than taught. This is the relational aspect.
The witness of an on-fire Christian is often more effective than great textbooks or awesome lectures (although those aren't bad!).
Like it or not, for better or for worse, the example of how you live the Catholic Faith is a huge factor in whether or not your students will listen to you and take hold of your teaching. Your students are watching! Show them Christ!
Catechetical takeaway
These are four broad catechetical methods for initiating kids into the mystery of Christ.
Obviously, more methods can be used in conjunction with these. However, these most effectively prepare kids to understand God's plan of salvation and their role in it.
Your students are living in this story! They need to understand what the story is about and how they should participate in it.
This is part of the Fundamentals of Effective Catechesis series.  I'm laying out the basics of the catechetical system I learned at Franciscan University of Steubenville. Check out the other posts!