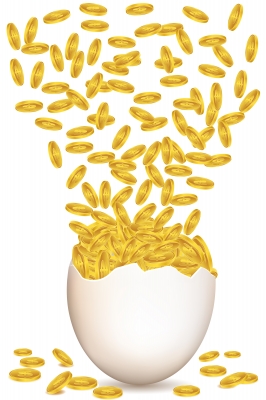 [This is a part of the Fundamentals of Effective Catechesis series]
Imagine you knew someone living in complete poverty.
They don't even know where their next meal is coming from.
Then, you found out they inherited a huge fortune!
Now imagine they didn't understand a thing about money and didn't care about going to get that fortune.
How would you convince them to get their inheritance?
Would you explain the Dow Jones to them? No, you would tell them the benefits! They wouldn't be hungry anymore. They could buy a place to live. Also, you would make sure they knew how to get it.
That's the reality for your Cradle Catholic students. Baptized as infants, they have a gift of inestimable value. However, they have no concept of what that means. How do you convince them to care? They need to be evangelized.

Help them accept God's invitation and then RSVP
Evangelization is making your students aware of their awesome calling from God. Aware of the great gift of union with Christ.
First, your students need to know God has given them a personal invitation in Baptism. And, they should understand that God is waiting for a response to his invitation.
When you get an invitation to a party, often it has an RSVP. What's does that mean? They require a response.
God wants a response to his invitation…hopefully in the positive. But until he gets it, he won't act in your soul. He respects your free will too much for that.
That positive RSVP to God's invitation is faith. And faith is not merely intellectual belief. It is a desire to have God become an active part of your life. It is a desire to be with God forever in heaven. And, it is the willingness to take the steps necessary to develop a relationship with God by keeping his commandments.
Direct your teaching toward willing faith
From the very beginning, you must stress that faith is a willingness to follow God. Awakening and deepening this willing faith should be a high priority. Really, we should see catechesis as development of faith.
It's not merely saying you believe but showing it. The best way to show this is through prayer. Not just rote prayer, although that's not bad. But prayer that emphasizes this willing faith.
What does this look like?
Thanking God for his great gift of love
Declaring a willingness to follow Christ
Asking God for the grace and strength to actually live this way
Catechetical Takeaway
Before we teach them anything, or perhaps simultaneously, we need to make our students aware of the magnificent gift they have in Christ. They won't respond to the technical aspects of the Faith at this point. You need them to understand the benefits of life in Christ.
Going back to the opening analogy, you don't explain the economy to get your friend interested in his money. You tell him what he can buy or that he doesn't have to be hungry anymore. When you make it something to be desired, that is evangelization.
After that, faith and its practice through prayer are the first steps toward full maturity in Christ–the flowering of baptismal grace.
How do you make your students aware of their calling in Christ? Do you direct your teaching toward faith and prayer? Let me know by leaving a comment! 
This is part of the Fundamentals of Effective Catechesis series.  I'm laying out the basics of the catechetical system I learned at Franciscan University of Steubenville. Be sure to check out the other posts.